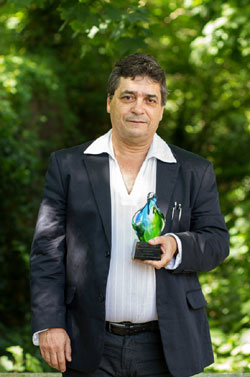 Chemistry solutions that tap native plants, such as cashew nuts, to tackle mosquito borne diseases through environmentally friendly insecticides and a focus on eco-remediation of land devastated by crude oil spills in Nigeria, won the
Elsevier Foundation Green and Sustainable Chemistry Challenge
. The 2017 first prize winner is Dr. Dênis Pires de Lima from the Federal University of Mato Grosso do Sul, in Brazil, and the second prize winner is Dr. Chioma Blaise Chikere from the University of Port Harcourt in Nigeria.
---
The Elsevier Foundation Green and Sustainable Chemistry Challenge is a collaboration between the Elsevier Foundation and Elsevier's chemistry journals. The five finalists for the 2017 edition pitched their projects during the second Green and Sustainable Chemistry Conference in Berlin, after being selected from nearly 700 submissions by a jury of experts in the field. Proposals addressed challenges in the developing world, focusing on energy, water, waste reduction, agriculture, medicine and more. The 2017 challenge builds off the success of the first year, which drew nearly 500 submissions and awarded innovative projects in biodegradable textile dyeing technology and sustainable agriculture.
Dr. Dênis Pires de Lima was awarded the first prize of € 50,000 for his project "From Cashews to castor oil, combating mosquito-borne diseases." Dr. Pires de Lima and his team are using natural waste from locally sourced cashew nuts and castor oil, to produce environmentally friendly insecticides against mosquitoes carrying Zika and Dengue fever — a sustainable alternative to conventional, substantially toxic insecticides. "The problem of diseases carried by mosquitoes is a result of an ecological imbalance in Brazil and many times the best solution will come from nature itself. My prize will provide visibility to a simple and scaleable project which help improve the quality of life for millions of people in Brazil fighting zika," said Dr. Pires de Lima from the Federal University of Mato Grosso do Sul, Brazil.
The second prize worth € 25,000 has been awarded to Dr. Chioma Blaise Chikere. Her project "Eco-restoration of crude oil-polluted land in Nigeria" demonstrates how organic nutrients such as garden fertilizers and animal excreta can be used to degrade hydrocarbons, cleaning up the soils heavily contaminated by decades of oil spills. "This award will give me access to better research facilities and help empower local Nigerian women through eco-restauration and biodiversity recovery," said Dr. Chikere.
"The winning projects do important work demonstrating how green chemistry solutions can be applied not only in one country and for one specific issue — but can tackle problems across countries and continents," said Professor Dr. Klaus Kuemmerer from Leuphana University Lueneburg, chair of the challenge's scientific jury. Re-using waste from the cashew nut industry, as in Dr. Pires de Lima's project, is a brilliant example of broad applicability as waste management is an issue in the vast majority of fields. Likewise, Dr. Chikere's proposal shows how local ideas and expertise are needed to find effective solutions — a model that can be embraced by different countries. It's their applicability in different contexts, and their potential to benefit society in its entirety, that makes the two projects so important. They set an example for other developing as well as developed countries on how to approach local problems, and still propose global solutions." Dr. Kuemmerer is also the chair of the Green and Sustainable Chemistry Conference and Editor-in-Chief of Elsevier's journals
Current Opinion in Green and Sustainable Chemistry
and
Sustainable Chemistry and Pharmacy
.
"The competition shows us how science can serve society by helping to achieve the UN Sustainable Development Goals," said Hannfried von Hindenburg, Senior Vice President of Global Communications at Elsevier. "In working on some of the toughest challenges in their countries, the winners demonstrate that chemistry can be a force for good in the fight against natural or man-made plagues like the Zika virus and environmental oil contamination."
For further information about the Green Chemistry Challenge, read more on
Elsevier Connect
, visit the
Elsevier Foundation website
, or join the conversation on social media:
@ELSchemistry
and
#GREENCHEM2017
.
---
About The Elsevier Foundation
The
Elsevier Foundation
provides grants to knowledge-centered institutions around the world, with a sustainability focus on innovations in health information, diversity in STM, research in developing countries and technology for development. Since 2006, the Foundation has awarded more than 100 grants worth millions of dollars to non-profit organizations working in these fields. Through gift-matching, the Foundation also supports the efforts of Elsevier employees to play a positive role in their local and global communities. The Elsevier Foundation is a corporate not-for-profit 501(c)(3), funded by Elsevier, a global provider of scientific, technical and medical information products and services.
www.elsevierfoundation.org
About Elsevier
Elsevier is a global information analytics company that helps institutions and professionals progress science, advance healthcare and improve performance for the benefit of humanity. Elsevier provides digital solutions and tools in the areas of strategic research management, R&D performance, clinical decision support, and professional education; including ScienceDirect, Scopus, ClinicalKey and Sherpath. Elsevier publishes over 2,500 digitized journals, including The Lancet and Cell, more than 35,000 e-book titles and many iconic reference works, including Gray's Anatomy. Elsevier is part of RELX Group, a global provider of information and analytics for professionals and business customers across industries.
www.elsevier.com
.